Joined

Feb 14, 2010
Messages

4
Most places only sell 3/8" which doesn't hold up too well with .223/5.56 since it's such a small high velocity round. I decided to just buy a sheet of 1/2" thick AR500 steel and have targets made to my specs. This stuff can withstand a 50BMG fmj round at 100yds with little to no damage!
Shooting steel is a lot fun since you get a nice "ping" when you hit the plate! These targets are 1/2" thick AR500 steel and should last a long time when shot with FMJ, HP, or SP ammo
at 100yds or greater.
Each set includes two 1/2" thick AR500 plates: one 10"x10" & one 6"x6".
Each plate has a 1/2" mounting hole cut out at each top corner for easy hanging from your target stand. Targets will have a light coat of white spray paint which makes it easy to see where you hit, almost like a shoot-n-see target. The set weighs about 20lbs. It is best to hang and/or slightly angle the plates slightly downward to prevent ricochets and deflect any shrapnel into the ground.
Look at my old thread
for pics of used and abused targets as well as my first impressions. My 1yr+ old target still looks like new and I let everybody at the range shoot it! If you have any doubt as to the quality of these targets I can tell you that I've had numerous guys buy second and third sets after having one and multiple guys wish they had bought more when I was sold out.
$83/set
or
10"x10" only: $62ea
(
12 available
1 remaining)
+ $11 flat rate shipping
(Can fit up to 2 sets + one 10" per box )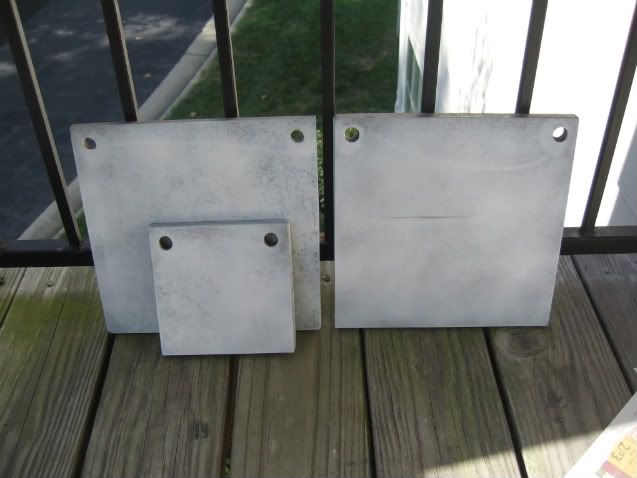 Will ship via USPS priority flat rate.
I accept USPS MO, discreet pp "gift", or discreet pp +3.4%. Please specify when you PM me.
FTF is ok in the Charlotte, NC area
I have a TON of feedback on other forums such as ar15.com, Carolinashooters, etc all under the same name.