Joined

Mar 14, 2011
Messages

807
Location
I am having an issue here. If y'all'd take a look at these and tell me what the difference is, please?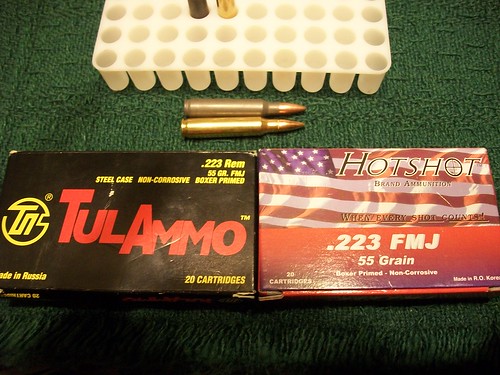 The box on the left is Russian made .223 fmj with steele casings, the box on the right is Korean made .223 fmj with brass casings. The Russian rounds (top in this picture) appear a bit duller and aged but other than that I can't find a difference.
Here's a full frontal view: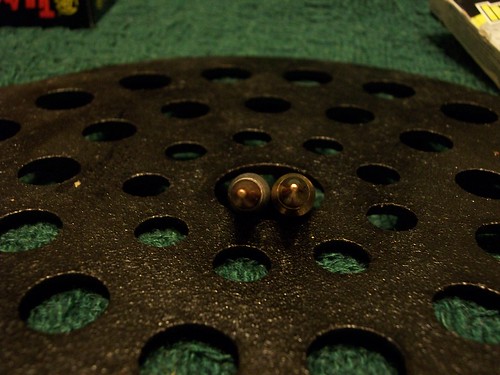 again the Russian is on the left and the Korean on the right.
Why do I ask? Because the Russian rounds were the ammunition we brought with us and were told we couldn't use because they might tear up the range and the Korean rounds were the ones we had to buy at $7.99 a box. Also, when the guy took some of the Russian rounds out to look at and to go ask someone else, he didn't give them back and couldn't find them when we asked. Grrrr! I realize that $1 per box goes towards the 50k to keep the range in working order but really? I'd rather just donate the buck and shoot my $5 a box rounds thank you.
Now, if there really is a difference I apologize for bothering everyone and thank you for teaching me, but honestly I can't see one besides the country of origin and the steel casing, which I wouldn't think has anything to do with the effect the round has on the range. Well, maybe that the steel casing might not expand quite as well as a brass casing and not allow the round to reach it's full potential speed but I'd think that would actually be better for the range since it's going that fraction slower.
Does anyone know if there are any plans for a new indoor rifle range in the works in the Summerville area? Or perhaps upgrading the indoor pistol range to allow rifles too? Cause I'd be all over that.